Cruise schedule
CentrePort is proud to play its role in the cruise industry, which provides a valuable boost to local businesses, and other economic benefits to the Wellington region. Ministry of Health and Maritime New Zealand Covid-19 protocols are in place for Cruise ship visits.
Please note that the PDF above is not updated daily. Please check the live shipping schedule using the link below for changes.
How to check the shipping schedule for changes
Under 'Vessel Type' select 'Cruise' from the drop down menu, and the date range you want to search within, and then click 'Apply Filters'.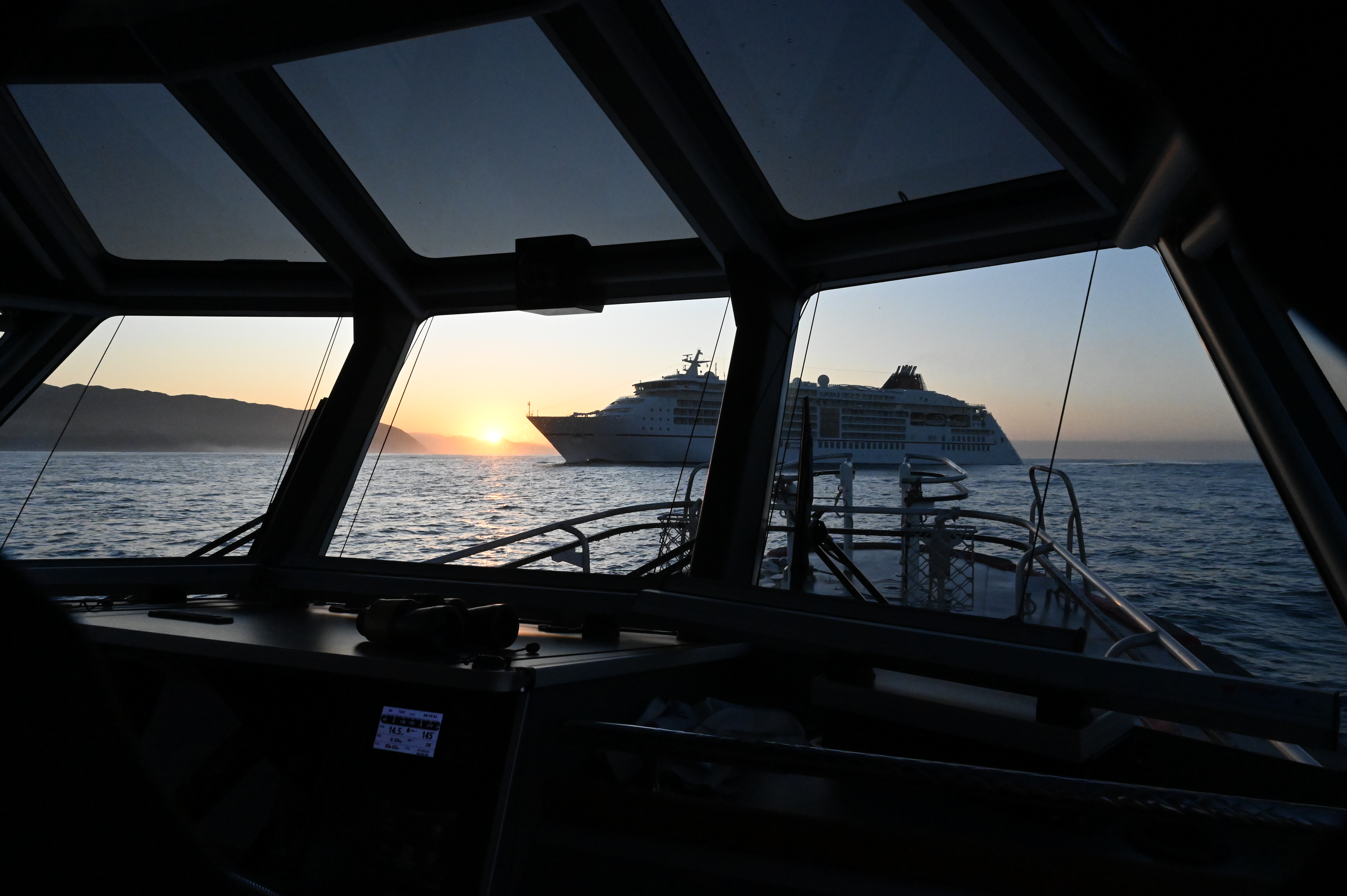 Welcome to Wellington, Te Whanganui-a-Tara
Welcome to our cool little capital. The Wellington Cruise berth is approximately 1.5 kms (or 1 mile) north of the city CBD.
If you are a cruise passenger, you can not walk into the city from the wharf and can not be picked up at the port by a private car or taxi. Please make sure you factor this into your plans. You can only get into the city by booking a shore excursion through your cruise provider, by booking an independent accredited tour, or by catching a cruise shuttle.
The Cruise shuttle stop for 2023/24 is located on Lambton Quay in front of the Old Government Buildings
Please note that since the 2016 Kaikōura earthquake, our port has changed dramatically and now has a wider operational area, so passengers only have pedestrian access to designated cruise zones on the wharf.
You can only pick up friends or family in the city
If you're a local and want to pick up a cruise passenger, please arrange to collect them from a cruise shuttle stop, or at a safe collection point in the city.
No taxi access on port
Taxis are not permitted to pick up or drop of passengers at the wharf. If you need to catch a taxi, please arrange to be picked up somewhere safe in the city or from a cruise shuttle stop.
Getting back to the ship
If your tour company is not dropping you off directly back at the wharf, please ensure you catch a cruise shuttle in time to get back to the ship. The cruise shuttle bus stops at the Old Government Building on Lambton Quay. Shuttle stop maps will be available on the wharf when you arrive.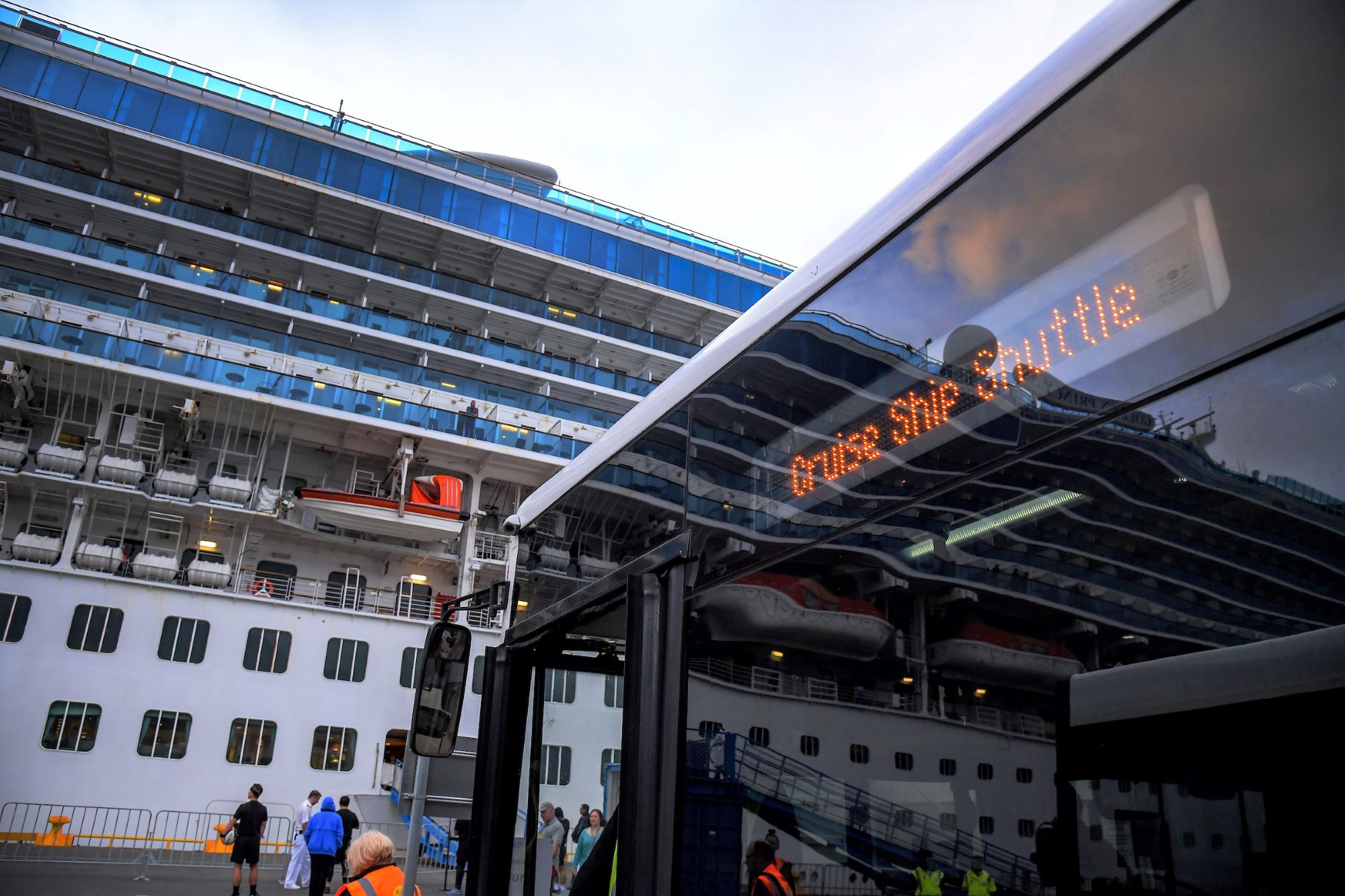 Tour companies
We have limited capacity for tourism operators to pick passengers up from the cruise berth. If you are a tourism operator, you will need to go through an approval process to gain access.
Passenger collection is not available in the city so it is preferred that you are an approved operator and collect passengers directly from port.
All official tourism providers including cruise ambassadors, cruise volunteers, and cruise shuttles must complete the cruise-specific online induction.
To access this induction, in the first instance please contact your managing organisation (e.g Tranzit). If you are unsure please get in touch with our cruise team.
Online inductions must be read and completed by the person intending to access the port. The induction must not be completed by another person on their behalf under any circumstances.
Identification on port
Once you've successfully completed the cruise induction, you'll be issued a CentrePort identification card within 5 days. This can be picked up from the Inwards Goods office on port.
You must carry your identification card with you at all times when on port.
Cruise ship servicing contractors
If you need to be on port to provide a maintenance, delivery or other service to a cruise ship, you'll need to complete our general induction. Examples of this include truck drivers, divers, painters, and maintenance contractors.
If you fulfil a role such as tour guide, ambassador, or bus driver, please read the section above on Tour Companies.